ParaZapper™ Brass Bands
Not sold for use on humans or animals.
Bands are normally shipped flat but may be bent to fit many contours.


Shows a brass band being bent to fit a tubular object.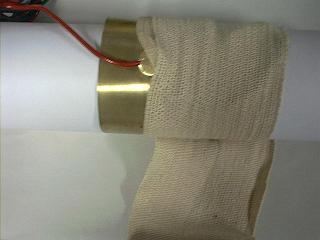 The bent band may be held in place with tape or an ace bandage ( not supplied ).


Brass Bands $62.00 US per pair plus S&H.


These bendable bands are approx. 2 inches by 5 inches with snap lead wires and provide almost 10 square inches of contact area.
Usage
Using these devices for eliminating parasites from water is easy but is not 100 percent effective.
Before and after microscopic examination of pond water samples show significant reduction of microbial content after usage.

Normal application is to place the electrodes into the water, further apart is better.
The unit is then turned on 7 minutes and off for 20 minutes and repeated 3 or 4 times.

Do not use for drinking water, potable water, or in swimming pools.


Contact Webmaster:
Contact Sales: sales@paradevices.com


Our normal phone hours are 9:30 AM to 3:00 PM Central time weekdays
however, if you need to reach us at other times, call anyway.
We do not take orders by phone and can not make recommendations for use with humans or animals.
If we are not in, leave a name and phone number, we will call back.
Phone# 1-866-765-5116 Nationwide Tollfree
--or-- 205-856-3909 Alabama Local
Both numbers are for the same phone line.




ParaZapper is a trademark of
Para Systems, Inc
490 Holland Rd. Unit B
Horton, AL 35980 USA
All rights reserved.

Notice: On advice of counsel, we are required to inform you that the statements and claims on this web site have not been evaluated by the Food and Drug Administration and are not intended to diagnose, treat, cure or prevent any disease -- not for use on humans or with pets. These battery powered devices are not offered or intended for human use or to diagnose or prescribe for medical or psychological conditions nor to claim to prevent, treat, mitigate or cure such conditions, nor to recommend specific products as treatment of disease or to provide diagnosis, care, treatment or rehabilitation of individuals, or apply medical, mental health or human development principles. The devices discussed herein have not undergone evaluation and/or testing by the United States Food and Drug Administration or like agency of any other country. Risks that might be determined by such testing are unknown. The information on this site is not a substitute for medical or veterinary advice.





Historical references
parazapper.com
paradevices.com
hulda-clark-parasite-zapper.com

visits to this page


parazapper site visits